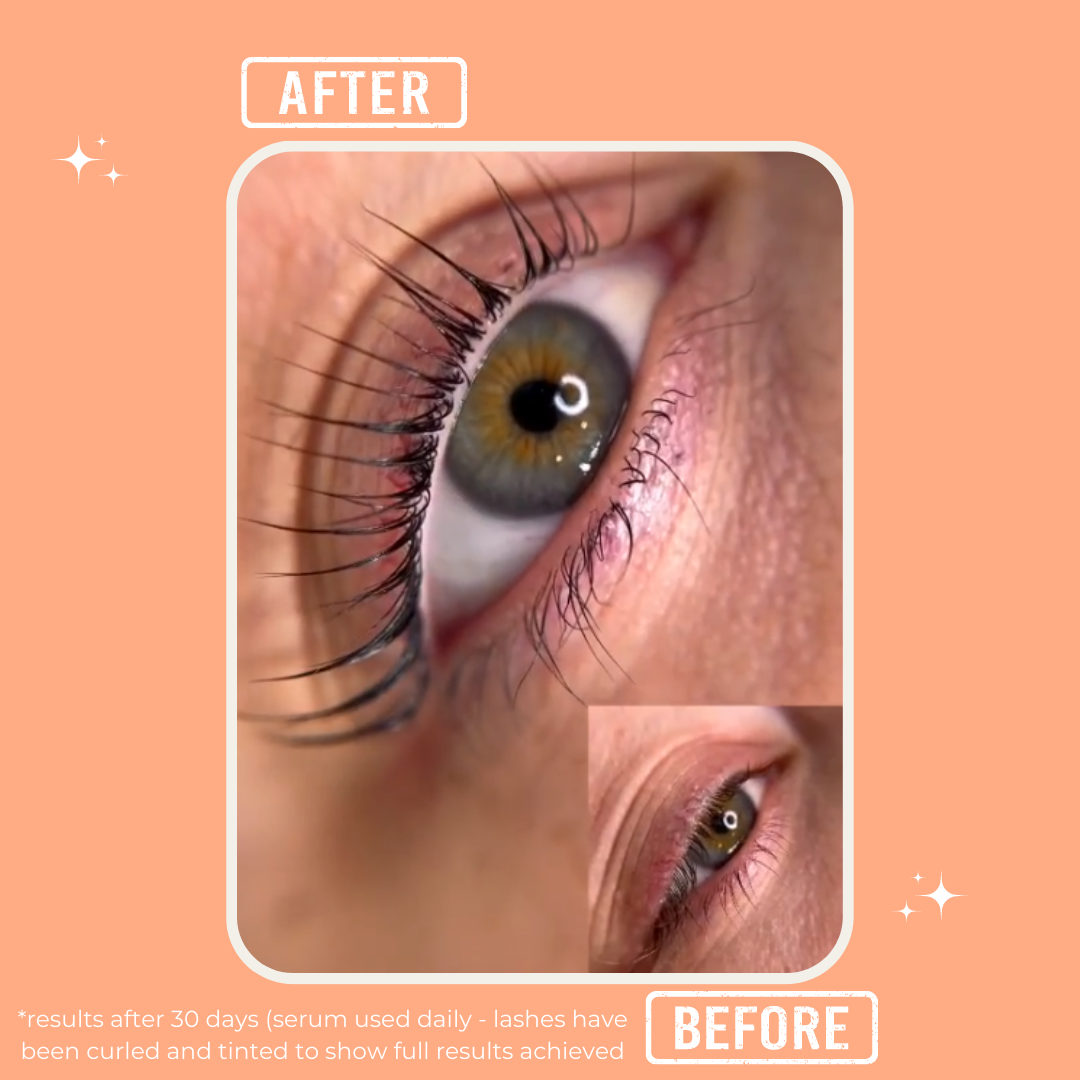 Supreme glo Lash Pro Growth serum
Description
Product features
Say hello to beautifully long, full and healthy lashes!
Infused with a combination of peptides, vitamins and biotin our lash serum nourishes the lash line, stimulates growth and supports a healthy environment for your lashes to grow long, full and healthy. 
Note: Keep it consistent! You will see the best results if used daily so make sure you keep your Lash pro serum where it won't be forgotten.
*Full results seen in 8-12 weeks*
100% Vegan and Cruelty-free
Ingredients

Aqua, Hyaluronate, Pentylene Glycol, Panax Ginseng Extract, Swertia Japonica Extract, Pumpkin Seed Extract, Acorus Calamus Root Extract, Panthenol, Serenoa Serrulata Fruit Extract, Biotinoyl Tripeptide-1, Myristoyl Pentapeptide-17, Oligopeptide-10, Tocopherol, Biotin. 
- See results within 3 weeks, notice the final in 6-12 weeks
- Safe with lash extensions
- Easy application
- 100% Vegan, 100% cruelty-free & Hormone Free
Supreme glo Lash Pro Growth serum
Amazing product!
I can't believe how fast this product works without all the nasties alot of other brands have. I'm in love with my lashes now and have had so many compliments and questions of how if my lashes are real. Highly recommend this product
Fuller lashes
My lashes are a lot fuller now and look so much better.
Cindy
Really impressed!
I'm super impressed with my one months use of the Lash Pro serum! Top is before and bottom is after, might not look like there is a huge change but I can definitely see how long my lashes have gotten, even more so when I use mascara my lashes look almost like a classic set of lash extensions! So keen to continue using this, really love this serum 😍
Supreme Lash PRo Serum
I've been using this Lash serum for two months now and I've had amazing results for half the price of the previous serums. It's easy to use, no nasties or chemicals that irritate your eyes. Noticed a difference after a month, not only is my lashes longer but fuller to. Love the service that comes Always amazing service when purchasing from Supreme Glo. I'll definitely be buying this item again.
Shipping
Fast shipping
We offer free standard shipping on every order within NZ. All orders over $100 receive FREE express shipping!
Order tracking
Every order receives a unique tracking number to ensure your parcel can be tracked every step of the way until it reaches your doorstep.
Get in touch
Have any questions? Email us at Info@supreme-glo.com and one of the team will get back to you with an answer.