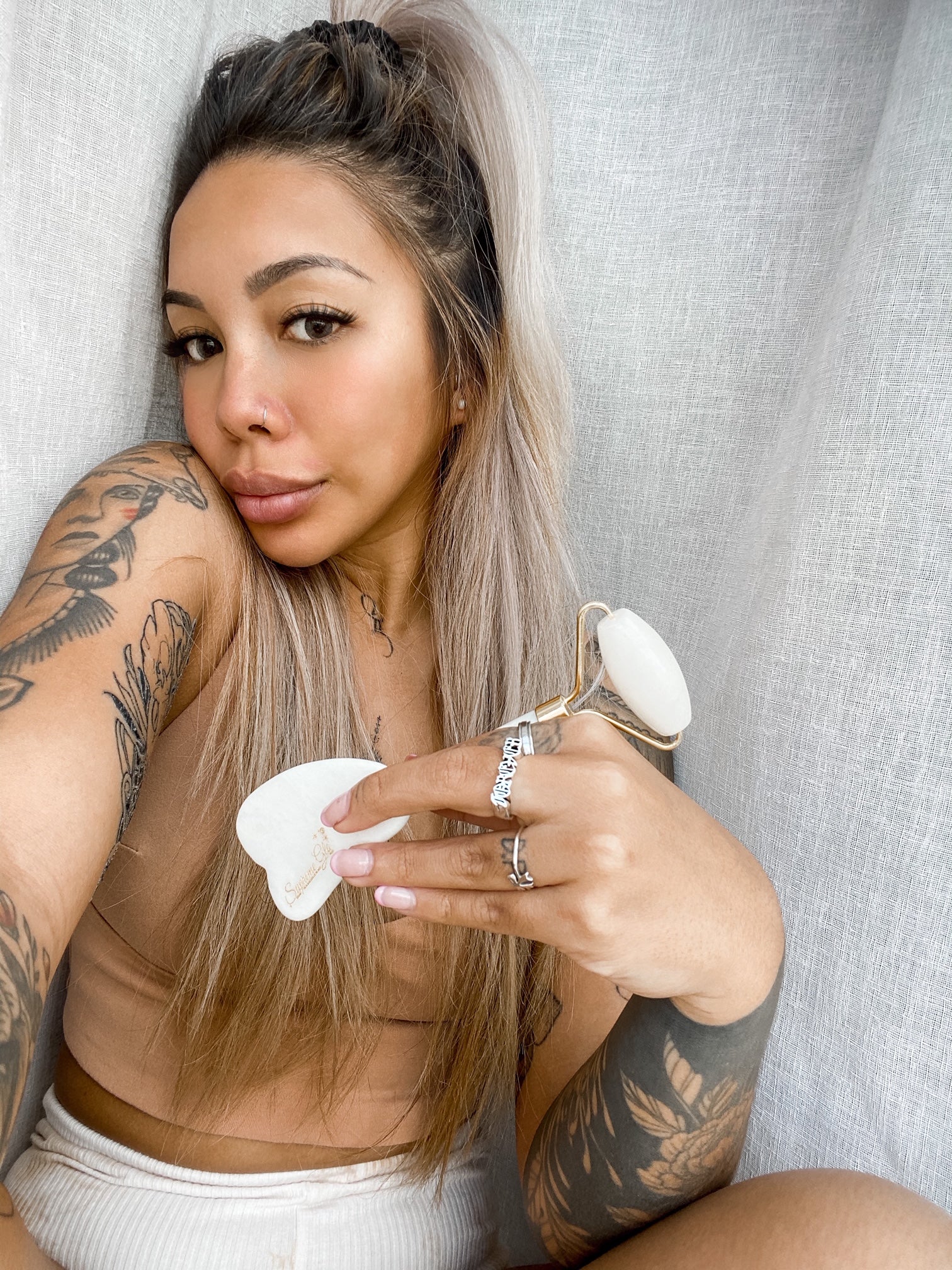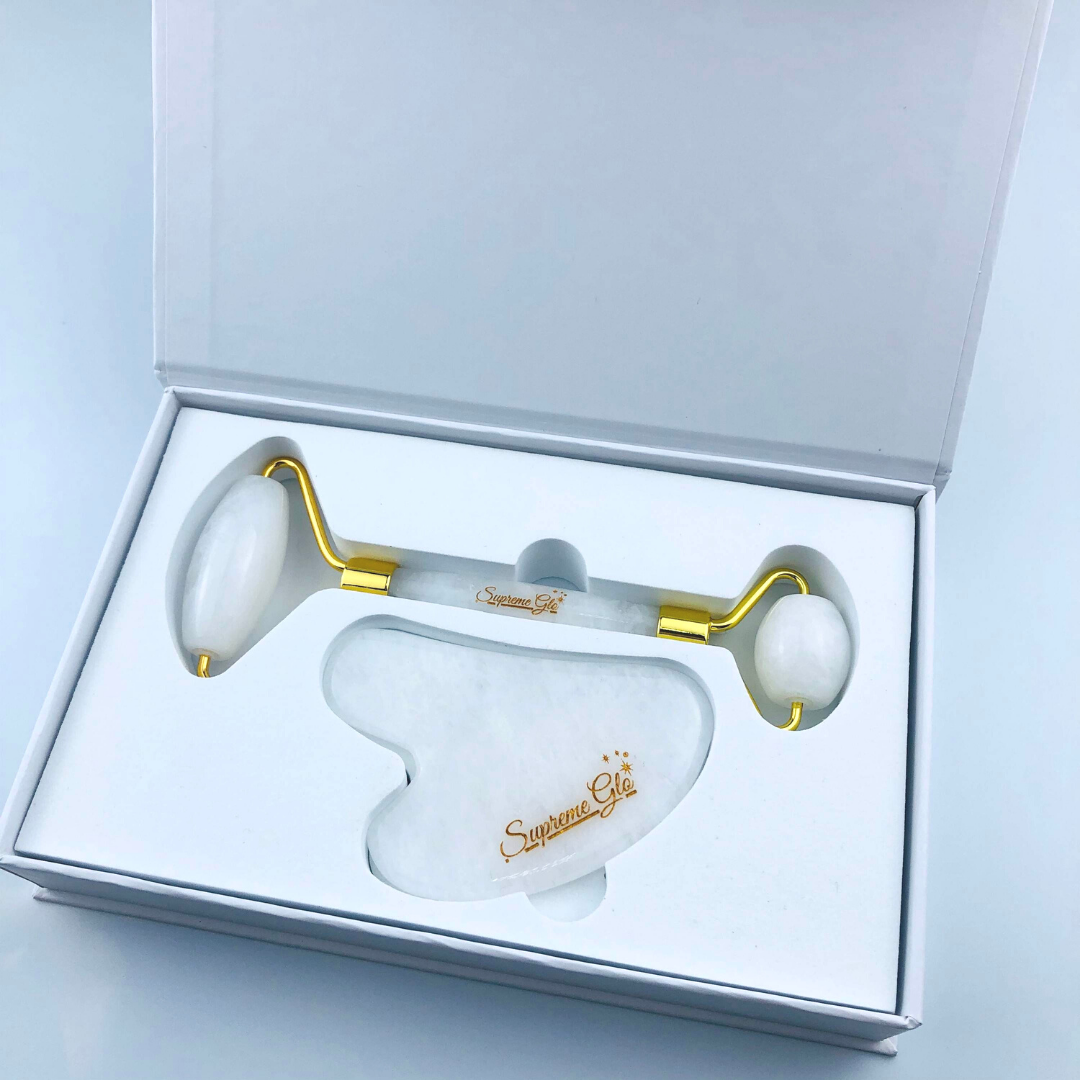 Description
Product features
Our Radiance duo is made of 100% high-quality natural white jade.

A truly great addition to your self-care sessions, white Jade is a gemstone that holds plenty of healing properties. This stone is known for its power to make you feel calm and peaceful as well as universally known to eliminate negative energy. 
Jade rolling is used to boost circulation, balance skin tone, and heal the skin to give your complexion a youthful glow. It also helps alleviate puffiness while stimulating cell growth and improving skin elasticity.
Gua Sha is an ancient Chinese healing technique that aims to improve circulation, alleviate chronic pain, inflammation, and stimulate lymphatic drainage.
The gua sha can also reduce tension held in the face and neck which leads to a reduction of headaches, jaw tightness and neck pain.
Usage: 
Facial skincare treatment
Muscle pain relief (neck, back, shoulders)
Jaw pain and headache relief
- Lifts and tones

- Drains excess fluids

- Improves skin elasticity

- Reduces headaches and muscle tension
Radiance Duo set
I love this set so much, I freeze the cyro pro roller and it's amazing for face neck legs any where that needs it and a depuff.
The gua Sha and face roller are so nice to use with skincare, gua Sha for a face massage to define jawline etc, roller to help absorb serums and a cooling affect on face and around eyes, I keep this set in the fridge.
All came beautifully packaged.
And the customer service is amazing!!
Katt Adam
Luxurious set
I received this set to trial prior to the launch, I love it! It has a beautiful luxurious feel to it with the white Jade and gold aesthetic. The stone keeps nice and cool naturally which is really refreshing but I have also been keeping mine in the fridge for the extra cold feel to help depuff my under eyes in the mornings. I also like that I can add more pressure with the gua sha that I can't with other skincare tools.
So soothing
I love that I was able to trial this set out. I can honestly say it is an awesome addition to my skincare routine. I have been mostly using the Gua sha from the set and have seen such a difference in the shape of my face and cheeks. I definitely look more 'lifted' than before. If you're thinking about trying this set out - do it!
Good Quality
I was lucky enough to be sent this to trial before they launched and I am very pleased with the quality and the results I have started to see after a few weeks. I had never used a Gua sha before and to be honest didn't think I would see a difference but I have which is awesome! My skin is much smoother and tighter and I don't look so puffy in photos so that's a bonus! I recommend this product.
Great results
I've seen great results in my skin from using this over the last month and I must say it's worth using. I started to get saggy around the jawline area which started to worry me but using the Gua sha in this set each day with my favourite face oil has improved the tightness and definition dramatically. Great high quality set , have recommended my sister grabs one when it launches.
Shipping
Fast shipping
We offer free standard shipping on every order within NZ. All orders over $100 receive FREE express shipping!
Order tracking
Every order receives a unique tracking number to ensure your parcel can be tracked every step of the way until it reaches your doorstep.
Get in touch
Have any questions? Email us at Info@supreme-glo.com and one of the team will get back to you with an answer.